Fig. 44.1
Targetoid purpura on face and forearms (courtesy Dr. Carola Durán)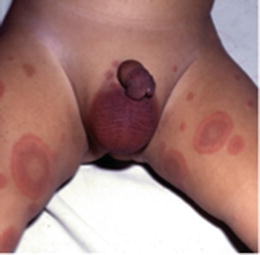 Fig. 44.2
Targetoid purpura on thighs (courtesy Dr. Carola Durán)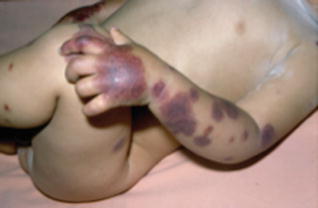 Fig. 44.3
Distal edema and purpura on hands and forearms (courtesy Dr. Carola Durán)
Laboratory analyses are usually inconspicuous. Leukocytosis, thrombocytosis, and elevated ESR may be present. There are usually no signs of urinary or gastrointestinal bleeding. Occasionally, circulating immune complexes can be found [
7
]. On histopathology, skin biopsies show leukocytoclastic vasculitis in the small vessels of the dermis. A deposition of C3, fibrinogen, and immunoglobulins (including IgM, IgG, and IgA) have been noted in one-third of the cases [
7
,
8
].
Treatment








Complications are very unusual






The eruption resolves spontaneously in a few weeks
The skin eruption of AHE usually resolves spontaneously in less than 3 weeks, although exacerbations and recurrences have been reported [
9
]. No specific treatment is recommended, and corticosteroids may even lead to complications and are thus not indicated. Complications are very unusual, but children with AHE should be controlled because AHE may clinically overlap with Henoch–Schönlein purpura, and this diagnosis should not be overlooked. Anecdotal reports exist of intestinal intussusception [
10
,
11
] and liver involvement [
12
] in AHE.
References
1.
Caksen H, Odabas D, Kosem M, et al. Report of eight infants with acute infantile hemorrhagic edema and review of the literature. J Dermatol. 2002;29:290–5.
CrossRef
PubMed