Case Notes
A 38-year-old G5P4004 at 7 and 4/7 weeks gestational age by last menstrual period with a history of 2 cesarean deliveries presented with vaginal spotting. An ultrasound revealed 2 gestational sacs suggestive of twin cesarean scar pregnancy at 6 and 2/7 weeks gestational age ( Figure 1 ). Magnetic resonance imaging findings were consistent with the ultrasound findings ( Figure 2 ).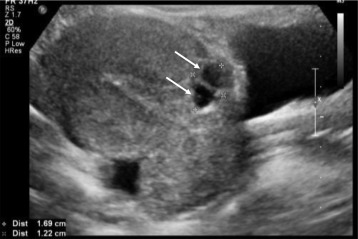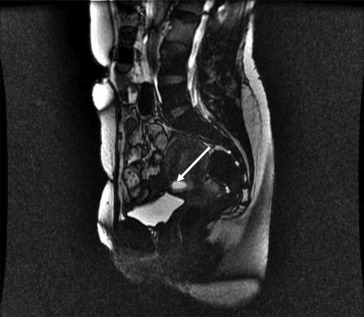 The patient was treated with 3 injections of methotrexate, 25 mg each: intrasac, intraplacental, and intramuscular. Postinjection β-human chorionic gonadotropin measurements demonstrated treatment success with no detectable β-human chorionic gonadotropin 49 days after methotrexate administration.
Comment
Cesarean scar ectopic pregnancy, although a rare event, has been increasing in incidence secondary to the higher number of cesarean deliveries performed along with improved ultrasound imaging. Cesarean scar ectopic pregnancies now constitute 6.1% of all ectopic pregnancies and are no longer the rarest site of implantation. It is postulated that cesarean scar ectopic pregnancy results from the conceptus invading the myometrium through a microscopic defect in the cesarean scar secondary to poor vascularization of the lower uterine segment with fibrosis and incomplete healing.
Cesarean scar twin pregnancy is exceedingly rare. Management options include expectant management, surgical management with laparotomy or laparoscopy, hysteroscopy, dilation and curettage, selective uterine artery embolization, and medical management with systemic and/or local methotrexate, local embryocides, or sac aspiration.
Combined local and systemic methotrexate administration was an effective treatment for our patient who had a twin cesarean scar pregnancy in the first trimester. The trajectory of β-human chorionic gonadotropin decline in twin cesarean scar ectopic pregnancy appears to be similar to a singleton ectopic pregnancy treated with intramuscular methotrexate and complete resolution of β-human chorionic gonadotropin levels was noted 49 days after methotrexate administration.
The authors report no conflict of interest.
Cite this article as: Bringley J, Denefrio C, Rijhsinghani A. Twin cesarean scar ectopic pregnancy treated with systemic and local methotrexate. Am J Obstet Gynecol 2017;216:77.e1-2 .