KEY QUESTIONS FROM THE HISTORY
Breathlessness


Consider the severity of breathing problems with activities

Poor weight gain in infancy (a sign of respiratory distress)
Cough


Chronology—any link to time of day/activity/environment

Nature of cough: dry (viral), loose (productive), barking (croup), paradoxical (forced repetitive cough with difficult inspiration, seen in whooping cough)
Feeding in Infancy


Choking (gastro-oesophageal reflux)

Symptoms with introduction of formula milk (cow's milk protein allergy)
Fever
Noisy Breathing


Noise in expiration (wheeze = lower airway obstruction)

Noise in inspiration (stridor = upper airway obstruction)
Cough, Wheeze or Stridor in a Young Child


If sudden onset, is there a history of inhaled foreign body or choking?
Ear, Nose and Throat


Child pulling at their ears (middle ear infection)

Difficulty in swallowing (tonsillitis or epiglottitis)

Offensive odour breath (bacterial infection)

Nasal secretions, bleeding
Family History


Family history of respiratory problems (asthma, cystic fibrosis)

Asthma, eczema, hay fever in close relative (atopy)

Any smokers or pet animals in household?

Travel to area of high tuberculosis prevalence, or contact with infected relative?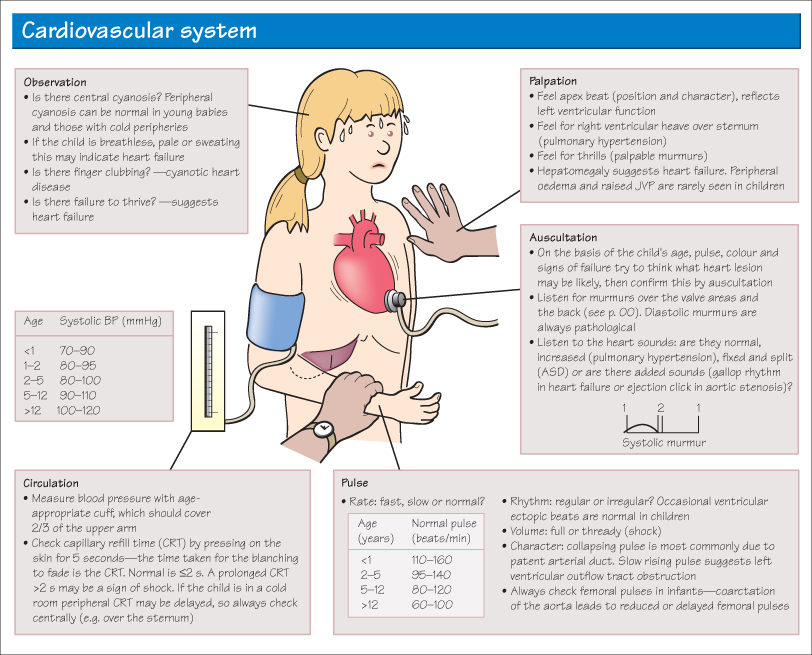 KEY QUESTIONS FROM THE HISTORY
Medical Condition Associated with Cardiovascular Problems


Genetic syndromes involving structural heart defects (e.g. Down's, Turner's, Marfan's syndromes)

Renal problems (hypertension)

Chemotherapy (some drugs cardiotoxic)
Breathlessness


Breathing difficulties without signs of acute infection (consider cardiac disease)
Exercise


Exercise limited by shortness of breath, palpitations or chest pain

Competitive sports—rarely these may need to be limited with some cardiac defects
Colour Change


Cyanosis—central (tongue) or peripheral (hands and feet)

Pale and sweaty, poor perfusion (sign of cardiac failure or an arrhythmia)
Growth


Feeding problems in babies (breathlessness impairs feeding)

Poor weight gain on growth chart
Syncope


Unexplained collapse or fainting

Collapse linked with exercise

Palpitations

Ask the parents to demonstrate rate/rhythm by tapping with their hand
Murmurs


Previously noted heart murmur (physiological flow murmurs sometimes audible only at times of illness or after exercise)
Family History


Family history of congenital heart disease

Sudden death in early adulthood (congenital cardiomyopathy)
< div class='tao-gold-member'>