LMs have also been categorized according to
histologic appearance,
cyst size,
and
anatomical relationship to the mylohyoid muscle
[
7
,
8
] (Type 1 and 2, see Table
28.2).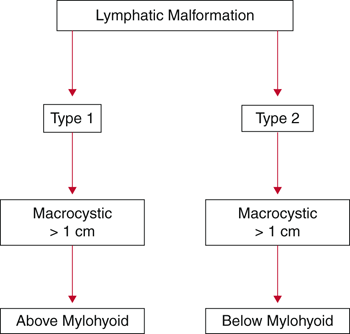 Type 1 lesions

are located below the mylohyoid muscle, and involve the anterior and posterior triangles of the neck. These lesions tend to be

macrocystic

(cysts > 1 cm) and carry a more favorable prognosis (Fig.

28.1a

).




Fig. 28.1

Types of LM.

a

Type 1—macrocystic, typically below the mylohyoid muscle.

b

Type 2—microcystic, typically above the mylohyoid muscle






Type 2 lesions

are found above the level of the mylohyoid muscle and frequently involve tongue, cheek, parotid, supraglottis, floor of mouth, oropharynx, and lip. These lesions tend to be

microcystic

(cysts < 1 cm) and carry a less favorable prognosis (Fig.

28.1b

).
Embryology
The lymphatic system develops at week 5 of gestation as endothelial outgrowths from the venous system. These outgrowths then develop into six lymphatic sacs that develop into the lymphatic system in a process of "sprouting" and branching. By the 9th week, the right and left thoracic ducts then connect with the venous system again at the junction of the internal jugular and subclavian veins. Although, the molecular mechanism underlying the formation of LMs remain unclear, it is thought to be the result of
lymphatic dysmorphogenesis
[
9
,
10
].
Pathogenesis
The majority of LMs are thought to form from parts of the lymph sac that fail to establish connections with the main lymphatic system or venous channels. Theories of LM development include:
1.
Failure of the lymphatic system to adequately separate or connect to the venous system, giving rise to cyst formation and lymphatic accumulation.
2.
Abnormal sequestration of lymphatic tissue in embryogenesis.
3.
Anomalous budding or "sprouting" of lymphatic structures from the cardinal vein. This theory of "centrifugal" development, hypothesizes that lymphatic endothelium derives from venous endothelium and undergoes centrifugal sprouting to the periphery, and through the expression of factors like vascular endothelial growth factor receptor 3 (VEGFR-3) and prospero homeobox protein (Prox-1) develops into lymphatics [
11
]. Conditions that result in the inappropriate expression of lymphatic-specific molecules may cause or contribute to embryologic LM development. Further understanding of the possible influence of molecular markers on the development and growth of LMs may allow the development of lymphatic-specific therapeutic strategies that alter the clinical course of patients with LM [
9
–
13
].
Histopathology
In contrast to vascular tumors (hemangiomas), LMs generally have normal levels of endothelial turnover. Histologic evaluations of LMs show no evidence of cellular proliferation, but rather a progressive dilatation of vessels of abnormal structure.
LMs are composed of vascular spaces filled with eosinophilic and protein-rich fluid. Multiple dilated lymphatic channels are lined by a single layer of flattened quiescent endothelium that lies on a thin single laminar basement membrane (Fig.
28.2
a). The fibrovascular vessel walls are of variable thickness containing both smooth and striated muscle elements. Nodular clusters of lymphocytes are commonly seen within the cystic structure. Hemorrhage within the cystic spaces is also common, which may indicate recent trauma or spontaneous intralesional bleeding.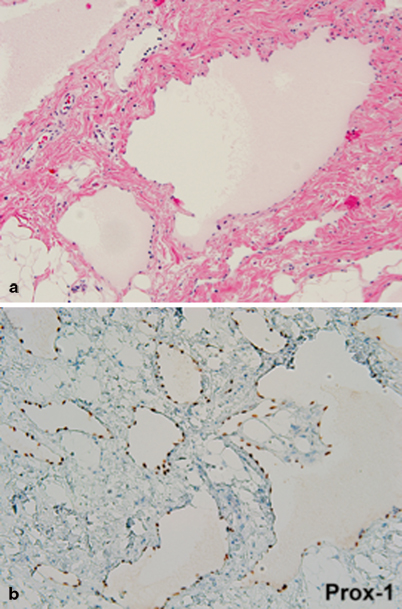 Fig. 28.2
Lymphatic malformation, soft tissue neck.
a
Thin-walled channels lined by flattened lymphothelium.
b
Lymphatic endothelial cells showing strong nuclear Prox-1 immunoreactivity, characteristic of lymphatic lineage
LMs express several common endothelial cell surface markers such as VEGFR-3, lymphatic vessel endothelial hyaluronan receptor 1 (LYVE-1) and nuclear Prox-1 immunoreactivity characteristic of lymphatic lineage (Fig.
28.2b
). LMs, however, do not express the biologic markers associated with vascular tumors (glucose transporter 1 (GLUT 1), merosin, and Lewis Y antigen) [
5
,
6
].
Clinical Presentation
Differential Diagnosis
An accurate clinical history and examination should distinguish between an LM from a vascular tumor (hemangiomas) and can usually exclude other neck lesions including branchial, cleft cyst, lipoma, etc. In cases where the LM may be a mixed lesion with a venous complement, imaging studies, such as US, computed tomography (CT), and MRI, can aid diagnosis.
Imaging Evaluation
Although LMs are primarily diagnosed on clinical history and examination, the role of imaging plays an important role in not only confirming the diagnosis, but also determining the extent, and type of the lesion (microcystic vs. macrocystic), and its anatomic relationship to surrounding tissue planes, muscles, and vascular structures. Imaging is essential for preoperative planning, if surgery is considered. Primary imaging modalities include US, CT, and MRI with gadolinium. MRI with contrast is the study of choice (Fig.
28.6
).