Fig. 32.1
This segmental tibia fracture in an adolescent was treated with casting and went onto malunion. The patient subsequently developed knee and ankle osteoarthritis
What Is Acceptable Alignment?
There has been an evolution in what constitutes acceptable alignment among our peers. Through the 1990s all focus was on achieving union with the following alignment dogma: less than 10° of angular deformity and less than 2 cm of shortening were well tolerated [
1
,
2
]. Sarmiento stated, "We accept minor losses in length and alignment as small sacrifices in an effort to provide early function and decreased morbidity." Changes in stress patterns at the tibiotalar joint are not significant with angular deformities less than 10° in any plane. In over 25 years of observation small amounts of shortening and angulation have not been associated with osteoarthritis or diminished function at a later date and are cosmetically acceptable to the patient [
3
]. Many patients were left with large rotation deformities of the femur and tibia, bone shortening, or angular and translational deformities (Fig.
32.2
). Surgeons have moved toward more stringent criteria with less than 5° of angular deformity considered ideal [
4
–
6
]. The adoption of intramedullary nailing and marginalization of casting as a standard of care for adult tibia fractures has given surgeons the ability to obtain more accurate fracture reductions [
7
]. Similarly, the management of pediatric femur fractures has moved toward surgery making traction and casting less popular [
8
] (Fig.
32.3
).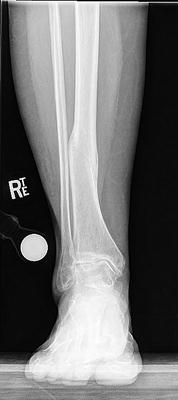 Fig. 32.2
This distal tibial fracture was sustained during adolescence and was treated with casting. The angulation of 10° was accepted and the fracture healed uneventfully. The patient developed ankle arthritis years later with more joint space narrowing seen in the medial aspect of the tibiotalar joint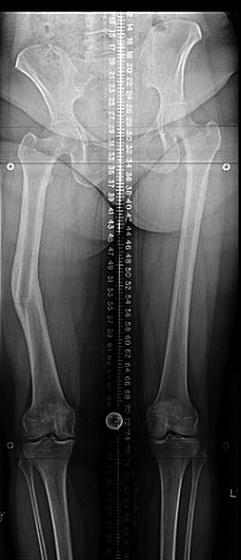 Fig. 32.3
This fracture was treated in adolescence with traction and casting resulting in 16° of varus and 3 cm of shortening
What Are the Consequences of Malalignment?
It is not uncommon to see adult patients with childhood deformities present to the office with knee or ankle arthritis secondary to the long-standing malalignment. This poor alignment places abnormal or asymmetric stress across the adjacent joint(s) leading to premature cartilage breakdown [
7
–
10
]. This contention is supported by Vallier et al. who found that a tibial malunion of more than 5° was significantly associated with knee and ankle pain [
4
]. Palmu found that the treatment of femur fractures in children older than 10 years with traction led to a high incidence of deformities greater than 10° that he later correlated with the development of knee arthritis at a young age [
8
] (Fig.
32.4
). We should strive to reestablish these normal parameters for bone alignment to avoid abnormal limb mechanics. This will help to prevent articular cartilage wear and pelvic and low back problems, and facilitate joint replacement, if and when needed. More importantly, if initial treatment results in unacceptable alignment then we are obligated to consider the long-term implications for this patient and suggest further surgical correction for this patient. If the surgeon is not comfortable performing this "residual correction" then the patient should be referred to a specialized center. Many patients will elect no further treatment or may not be candidates for further intervention, but the malalignment needs to be acknowledged.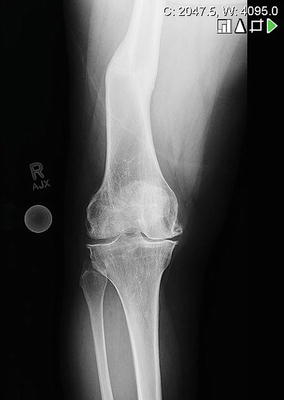 Fig. 32.4
This varus femur malunion resulted in malalignment that developed medial compartment osteoarthritis years after the injury
What Are the Legal Implications of Iatrogenic Deformities?
Nearly 15 % of orthopedic surgeons face a malpractice claim annually [
11
]. Restricting the criteria for acceptable deformity is analogous to "narrowing the strike zone." This places increased responsibility on the surgeon to have a "perfect" result, thus making our job more difficult. If a malunion is a failure and the criteria for malunion are now broadened then there are legal implications. Patients are glad to have their concerns about their deformity legitimized, but their next question is why the deformity occurred and whether this was malpractice. Based on our experience, in most cases, the best policy is to concede that the result is not ideal, reassure that every effort was made to provide an optimal result and that there was no medical negligence, and counsel that further surgery to deliver a superior outcome is recommended. The greatest predictor of payment to a plaintiff is the severity of the patient's disability [
12
]. This implies that the best course of action is to do everything possible to improve their condition and decrease disability. At no time should the surgeon abandon or blame the patient. A good doctor-patient relationship and better preoperative discussions of known complications will help to calm the impulse to bring legal action against the physician [
13
,
14
]. Contact the hospital legal department and identify this patient as "at risk" for litigation. The hospital will often have patient services mitigate any feelings of discontent or help finance further treatment. When a patient does seek legal action, an angry patient will be less likely to settle the case. So, one must do as much as possible to avoid a hostile relationship with the patient and his or her caretakers. One must keep in mind that we are judged not only by our successes but also by how we handle adversity. These difficult situations are hurdles along the career path of every orthopedic surgeon.
Common Iatrogenic Deformities
Premium Wordpress Themes by UFO Themes
WordPress theme by UFO themes