Fig. 27.1
Langenskiöld radiographic classification of infantile Blount's disease. Langenskiöld described six presumably progressive radiographic stages of deformity in infantile Blount's disease. Stage I is often difficult to distinguish from persistent physiologic varus. Langenskiöld noted that spontaneous correction was possible despite radiographic severity as advanced as Stage IV. Stage VI is characterized by complete medial proximal tibial physeal closure (bar). Reprinted from Langenskiöld A. Tibia vara. Acta Chir Scand 1952; 103:9, with permission from John Wiley & Sons
Adolescent Blount's disease (Fig.
27.2a
) is characterized by later onset, with more subtle physeal and much less epiphyseal distortion. Interestingly, there are neither radiographic classifications nor descriptions of the natural history of adolescent Blount's disease during remaining growth: steady progression of varus deformity once onset during the remainder of growth is assumed.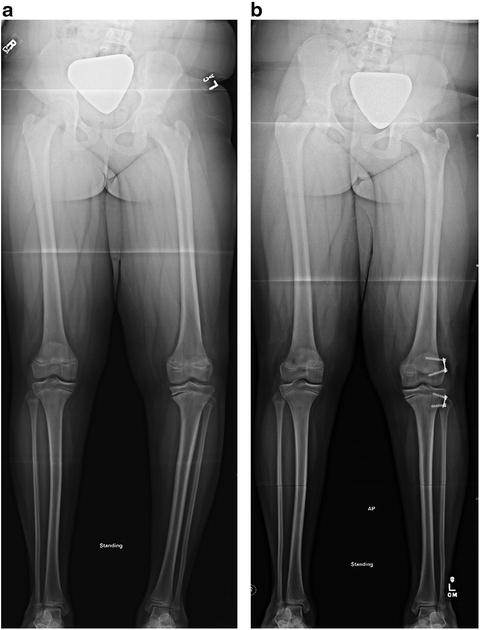 Fig. 27.2
Radiographic appearance of adolescent Blount's disease. (
a
) The characteristic radiographic features of Adolescent Blount Disease include varus deformity of the proximal tibia and medial proximal tibial physeal widening. Distal femoral varus deformity (accentuating the varus deformity) and presumably secondary distal tibial valgus deformity may be present. (
b
) Radiographic appearance after growth modulation of lateral distal femur, lateral proximal tibia, and proximal fibular epiphysiodesis. Note the residual leg length inequality
There is some controversy as to the existence of an intermediate form of Blount's disease (called "juvenile" by Thompson) [
4
,
5
]. This form is characterized as intermediate in age of onset and radiographic severity of epiphyseal and physeal distortion. At best, this form is much less common that either infantile or adolescent Blount's disease. Some cases have been described as having an appearance of a "slipped proximal tibial epiphysis" with diffuse widening and irregularity of the physis, and the impression of medial displacement of a relatively intact epiphysis to produce the varus deformity [
5
] (Fig.
27.3
).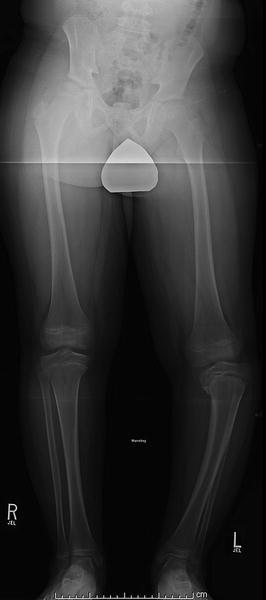 Fig. 27.3
Nine-year-old boy presenting with progressive varus deformity of the left tibia. Note the "intermediate" nature of the patient by presenting age and radiographic epiphyseal/metaphyseal distortion (between "infantile" and "adolescent" Blount's disease). Note the irregularity of the entire proximal tibial physis. Some authors refer to such intermediate cases as "juvenile Blount's disease"
Differential Diagnosis
The most difficult differential diagnosis for infantile Blount's disease is the distinction between persistent physiologic varus and early infantile Blount's disease. Some authors report the efficacy of the metaphyseal-diaphyseal angle in providing this distinction [
6
–
9
]. The problem is compounded by the opportunity for true infantile Blount's disease to resolve spontaneously (as reported originally by Langenskiöld [
3
], and for presumably true persistent physiologic varus to progress to infantile Blount's disease.
Box 27.1. Differential Diagnosis of (Progressive) Varus Deformity in Children





Persistent physiologic varus






True infantile Blount's disease (resolving or progressive)






Renal-metabolic disorders (vitamin D deficiency, renal osteodystrophy)






Vitamin D-resistant rickets (VDRR)






Thromocytopenia absent radius (TAR) syndrome






Focal fibrocartilaginous dysplasia of the proximal tibia






Epiphyseal dysplasias (multiple; spondylo-epiphyseal; metaphyseal dysostosis)
Other disorders to consider are epiphyseal dysplasias, dwarfing syndromes, thrombocytopenia-absent-radius (TAR) syndrome, and metabolic bone disease (true vitamin D deficiency, vitamin D resistant (hypophosphatemic) rickets, and the mimicking metaphyseal dysostoses (Schmidt and Jansen types) (Figs.
27.4
and
27.5
).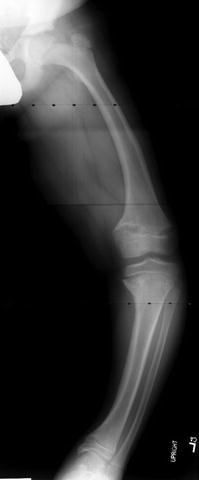 Fig. 27.4
Anteroposterior radiograph of the left lower extremity of a 13-year-old male with poorly controlled vitamin D-resistent rickets (VDRR). Note significant varus deformity of the distal femur, proximal tibia, and distal tibial as well as widening and irregularity of all physes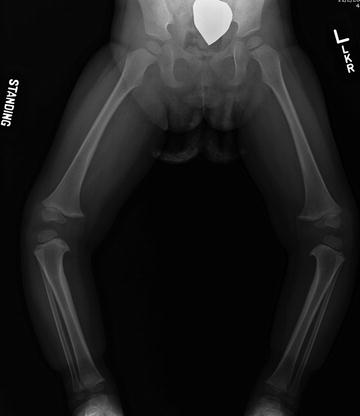 Fig. 27.5
Anteroposterior radiograph of a 3-year-old girl with thrombocytopenia-absent-radius (TAR) syndrome. Note the apparent medial proximal tibial epiphyseal defect and severe resulting varus deformity of the legs. The patient has no thumb or radius
Natural History
Langenskiöld reported that spontaneous correction can occur in infantile Blount's disease, even occasionally in advanced stages [
3
]. While this certainly seems to be true in milder stages, our experience has been less fortunate in later stages. Thus, the short-term natural history for infantile Blount's disease may be to progress or resolve. The long-term natural history is towards premature intra-articular pathology or early degenerative joint disease, even when angular deformity has been addressed, presumably because of the associated epiphyseal distortion [
10
,
11
].
Interestingly, the short-term natural history of adolescent Blount's disease is not known: no documentation of radiographic changes during growth has been reported. In general, patients appear to have a more benign long-term natural history with respect to degenerative arthritis [
10
,
12
]. However, the association of adolescent Blount's disease with morbid obesity, and the recent reports of the failure of deformity correction to impact body mass index portend poorly for the general health and longevity of patients with associated obesity [
13
–
18
].
Treatment
Controversies in the Treatment of Infantile Blount's Disease
Premium Wordpress Themes by UFO Themes
WordPress theme by UFO themes