Infectious mononucleosis
Atypical mycobacterial and other lymphadenitis
Juvenile angiofibroma
NUT (nuclear protein in testis) midline carcinoma
Sinonasal carcinoma
Parameningeal rhabdomyosarcoma
Esthesioneuroblastoma
Lymphoma
Cervical neuroblastoma
Nonrhabdomyosarcoma soft tissue sarcoma
An important entity recently described, which should be included in the differential diagnosis of nasopharyngeal malignancies presenting with aggressive behavior and rapid progression, is NUT (nuclear protein in testis) midline carcinoma. This is a very rare and aggressive malignancy genetically defined by rearrangements of the gene,
NUT
. In the majority (75 %) of cases, the
NUT
gene on chromosome 15q14 is fused with
BRD4
on chromosome 19p13, creating chimeric genes that encode the BRD-NUT fusion proteins. In the remaining cases,
NUT
is fused to
BRD3
on chromosome 9q34 or an unknown partner gene; these tumors are termed
NUT-variant
[
16
]. The tumors arise in midline epithelial structures, typically mediastinum and upper aerodigestive tract, and present as very aggressive undifferentiated carcinomas, with or without squamous differentiation [
17
]. Although the original description of this neoplasm was made in children and young adults, patients of all ages can be affected. The outcome is very poor, with an average chance of survival of less than 1 year. Preliminary data seem to indicate that
NUT-variant
tumors may have a more protracted course [
17
]. Preclinical studies have shown that NUT-BRD4 is associated with globally decreased histone acetylation and transcriptional repression and that this acetylation can be restored with histone deacetylase inhibitors, resulting in squamous differentiation, arrested growth in vitro, and growth inhibition in xenograft models. Response to vorinostat has been reported in a case of a child with refractory disease, thus suggesting a potential role for this class of agents in the treatment of this malignancy [
18
].
Diagnosis and Evaluation
NPC should always be suspected in an adolescent presenting with nasal congestion or epistaxis, headache, and a cervical mass. Most patients present with bilateral cervical metastases, and an asymptomatic cervical disease may be the presenting sign. Nasal endoscopy usually shows a nasopharyngeal mass, and a biopsy of the primary tumor is always recommended; however, a diagnosis can also be made with a biopsy of a cervical lymph node in the context of a suggestive nasopharyngeal mass. Imaging studies should include proper locoregional imaging and evaluation of metastatic sites. A magnetic resonance imaging (MRI) of the head and neck, extending to the supraclavicular fossa, is recommended, and a computed tomography (CT) may be performed to better define skull base erosion (Fig.
30.1
). A CT scan of the chest is also recommended to evaluate the presence of parenchymal metastases as well as mediastinal nodal disease, which usually develops as an extension of the cervical metastases. While the role of a positron emission tomography (PET) scan is not clear at the time of diagnosis, it may facilitate the evaluation of response to therapy [
19
].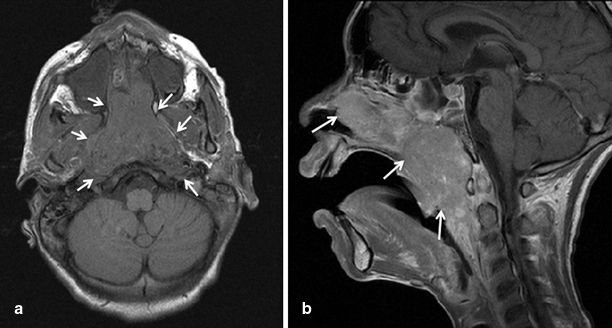 Fig. 30.1
Axial (
a
), and sagital (
b
) MRI images showing a large nasopharyngeal carcinoma in a 14-year-old African-American male patient
The keratinizing NPCs are conventional squamous cell carcinomas with readily seen keratinization and desmoplastic reaction. The nonkeratinizing carcinomas show minimal or absent keratinization mimicking urothelial transitional cell carcinomas. The undifferentiated type of NPC is the most frequent type seen in the pediatric age group. In this type, the neoplastic cells may have a diffuse, noncohesive growth pattern mimicking a lymphoma or may have a syncytial cohesive growth, forming nests. Characteristically, they lack keratinization. These tumors are associated with a prominent nonneoplastic lymphoid component. By immunohistochemistry, all types of NPC are immunoreactive with cytokeratin. EBV EBER in situ hybridization is positive in all undifferentiated NPCs and 100 % of the neoplastic cells contain the virus (Fig.
30.2
).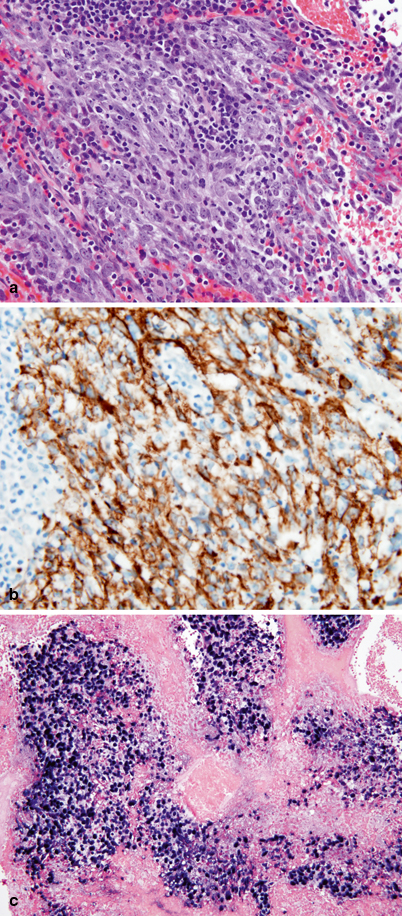 Fig. 30.2
a
Undifferentiated type nasopharyngeal carcinoma (NPC) showing a large group of cohesive neoplastic cells with amphophilic cytoplasm and oval nuclei with single prominent eosinophilic nucleoli. Numerous, interspersed inflammatory cells (predominantly lymphocytes) are also present.
b
Tumor cells are strongly and diffusely immunoreactive for pancytokeratin AE1AE3.
c
EBV EBER in situ hybridization showing positive staining (
dark blue
) in the nuclei of all tumor cells
Staging of NPC usually follows the TNM system, which has shown to be predictive of outcome and very helpful in defining therapy (Table
30.2
) [
20
].
Table 30.2
AJCC (American Joint Committee on Cancer) staging system for nasopharyngeal carcinoma












Value






Definition








T1






Tumor confined to the nasopharynx, or tumor extends to oropharynx and/or nasal cavity without parapharyngeal extension







T2






Tumor with parapharyngeal extension







T3






Tumor invades bony structures of skull base and/or paranasal sinuses







T4






Tumor with intracranial extension and/or involvement of cranial nerves, hypopharynx, orbit, or with extension to the infratemporal fossa/masticator space.







N0






No regional lymph node metastasis







N1






Unilateral metastasis in cervical lymph node(s), ≤ 6 cm in greatest dimension, above the supraclavicular fossa, and/or unilateral or bilateral, retropharyngeal lymph nodes, ≤ 6 cm in greatest dimension







N2






Bilateral metastasis in cervical lymph node(s), ≤ 6 cm in greatest dimension, above the supraclavicular fossa







N3






Metastasis in a lymph node(s)c> 6 cm and/or to supraclavicular fossa







N3a: > 6 cm in dimension







N3b: Extension to the supraclavicular fossa







M0






No distant metastasis







M1






Distant metastasis







Stage I






T1






N0






M0







Stage IIA






T2a






N0






M0







Stage IIB






T1






N1






M0







T2






N0






M0







T2






N1






M0







Stage III






T1






N2






M0







T2






N2






M0







T3






N0-2






M0







Stage IVA






T4






N0-2






M0







Stage IVB






Any T






N3






M0







Stage IVC






Any T






Any N






M1
Treatment